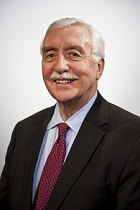 Patrick F. Fagan, PhD
Marriage and Religion Research Institute
Patrick F. Fagan, PhD, is Senior Fellow and Director of the Marriage and Religion Research Institute (MARRI), which examines the relationships among family, marriage, religion, community, and America's social problems, as illustrated in the social science data. A native of Ireland, Dr. Fagan earned his Bachelor of Social Science degree with a double major in sociology and social administration, and a professional graduate degree in psychology (Dip. Psych.) as well as a PhD from University College Dublin.
In 1984, Dr. Fagan moved from the clinical world into the public policy arena, to work on family issues at the Free Congress Foundation. After that, he worked for Senator Dan Coats of Indiana, then was appointed Deputy Assistant Secretary for Family and Community Policy at the U.S. Department of Health and Human Services by President George H.W. Bush, before spending the next 13 years at the Heritage Foundation, where he was a senior fellow.